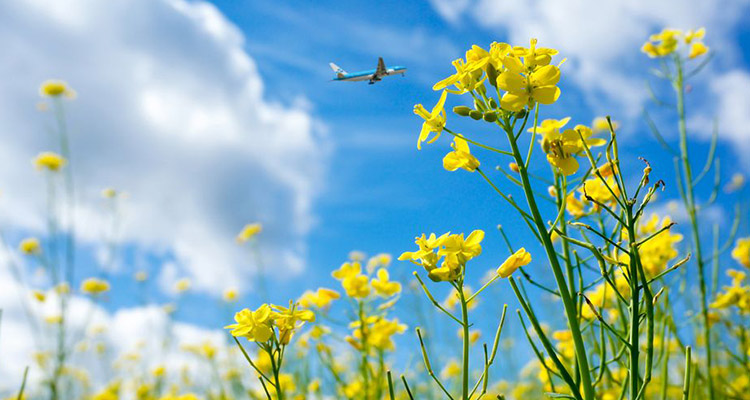 Taking flight towards sustainable air travel
The search for sustainable tourism through cultural exchange is one of dothegap's key missions, as we have discussed in previous posts.
So, naturally, we were overjoyed to hear the news that KLM Royal Dutch Airlines had operated the first passenger flight with synthetic paraffin. It is an encouraging feat and paves a great path towards the future!
Want to know more about how you can fly more responsibly by reducing CO2 emissions? We have got the scoop!
Sustainable travel: the first passenger flight fuelled by synthetic paraffin
Finding a way to travel more sustainably is one of the major challenges faced by an interconnected, global world that is aware of the serious climate crisis it is going through.
In this spirit, new, more earth-friendly alternatives to regular air travel are popping up so that we can continue to fly. A case in point came from airline KLM earlier this year when it conducted the first-ever passenger flight run partially on sustainably produced synthetic paraffin.
The plane took off from Amsterdam and landed in Madrid, burning 500 litres of this paraffin, which is produced by Shell from CO2, water, and renewable solar and wind energy.
The switch from traditional fossil fuels to sustainable alternatives is a feasible and necessary goal. In fact, the idea is to transition over completely by around 2050.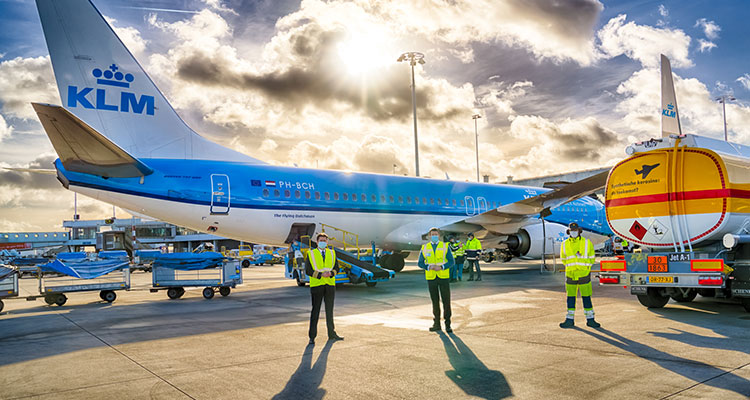 As KLM CEO Pieter Elbers said, "This first flight on synthetic kerosene shows that it is possible in practice and that we can move forward".
For her part, Cora van Nieuwenhuizen, the Netherlands' Minister of Infrastructure and Water Management, stated that "This promising innovation will be of great importance in the coming decades to reduce CO2 emissions from aviation".
Initiatives are under way in the Netherlands to achieve these goals, such as the construction of Europe's first sustainable biokerosene plant, a joint effort involving SkyNRG, KLM, Amsterdam Airport Schiphol and SHV Energy.
This first passenger flight with synthetic paraffin is part of a wider strategy that includes other key initiatives to achieve CO2-neutral flights, such as Fly Responsibly and KLM Takes Care. You can read more about this transformation here.
Although the coronavirus crisis is putting us all through the wringer, it has also come as an opportunity to speed up the ecological transition in sectors such as aviation and to get people travelling more sustainably. As you can see, it can be done!
We cannot wait to travel again! How to do it safely
These months have also rekindled our urge to get out and travel again, to hop on a plane and fly towards new experiences, or to finally take part in that cultural exchange we have been putting off!
International flights are slowly returning and companies like KLM are gradually adding back their European and intercontinental destinations.
The resumption is moving ahead steadily and, of course, safely! Both airport workers and airline staff have ramped up their safety and hygiene measures to the maximum, even before you board their planes. In KLM's case, the check-in counters are fully disinfected to ensure your health and that of the company's employees.
In flight, hygiene measures are scrupulously observed and passengers are kept at a safe distance from one another. In addition, the planes use HEPA filters and guarantee constant airflow, with fresh air continuously brought in from outside.
If you are unable to take your scheduled flight for personal reasons or due to restrictions, KLM lets you swap out the dates and destinations on your tickets for free. If you end up needing to cancel your flight, you can also request a refund (until May 31st ,2021).
At dothegap, we look forward to engaging in new exchanges and more sustainable travel. With confidence, safety and initiatives like the ones launched by KLM and other companies, our wishes are sure to come true soon!
We encourage you to start looking for your next experience by joining our community. Check it out here!