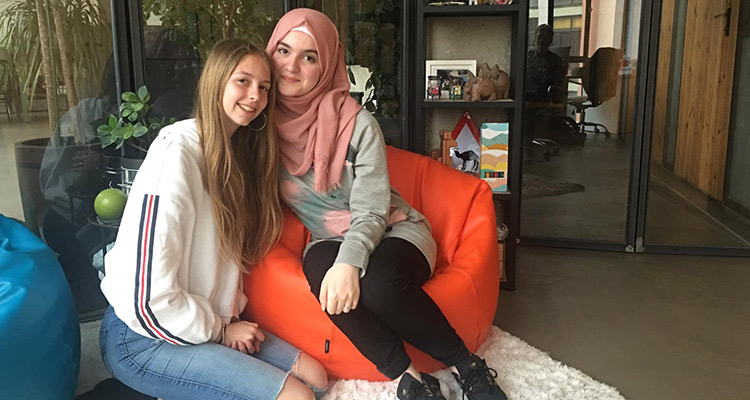 Interview with Reem and Inés, participants in a cultural exchange
Want to know all the benefits of a cultural exchange? In this post you'll get to know what this experience is like from the inside thanks to Inés Meyer and Reem Alayoubi. They are two students, from Barcelona and Munich respectively, and we've had the chance to interview them while they experience the first part of their exchange in the Catalan capital.
If you'd like to know what they told us, keep reading! Their excitement of experiencing your own cultural exchange and organising it for your family is contagious.
Reem's experience, student from Munich in a cultural exchange in Barcelona
Why did you decide to participate in an exchange?
The first thing I thought was that I've traveled more than once and each time I've traveled, I've learned many things: about the people, the country and the culture. I always joked with my friends that the next trip would be to Spain and when I got the opportunity I said: "I'm going to do it!". I'm really interested in visiting new countries or cities and meeting people, something that also motivated me to do it.
Although you came from Germany, you weren't born there. Could you tell us a bit about your background?
I was born in Syria, Damascus, where I lived for three years. I emigrated to Turkey after the war in Syria began, where I lived for four years. My next destination was Germany, because they offer better opportunities to start a new life. So, throughout different states of my life I've had to start over: learn the language, get to know the people, their culture and the place.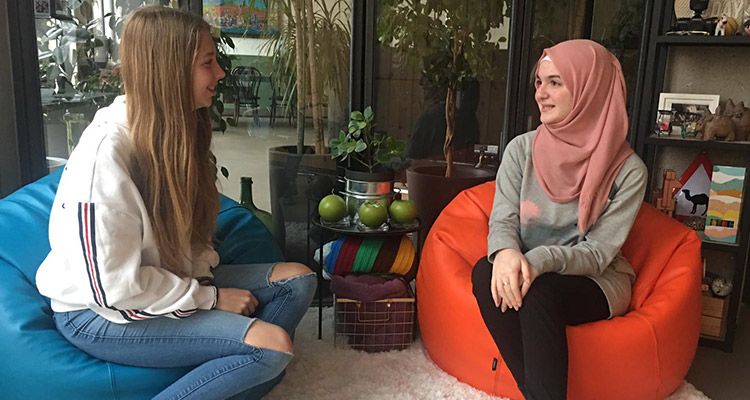 How did you prepare for your trip to Barcelona?
The first thing I looked at was the weather, to know what clothes to pack. Then what classes would be offered by the school, to be able to follow them better in Spanish. I also went shopping many times, because there were things I would need that I don't use in Germany. I didn't prepare all that much really!
Were you surprised by anything about our culture?
I feel like your culture is very similar to mine, something which surprised me. It's very familiar to me. Even the palm trees, the mountain; it reminds me a lot of Damascus.
Tell us something important you've learned since your arrival.
Everywhere you go there are people, either very friendly or not so nice. In both cases, you must put down your defenses and live your life true to what you desire.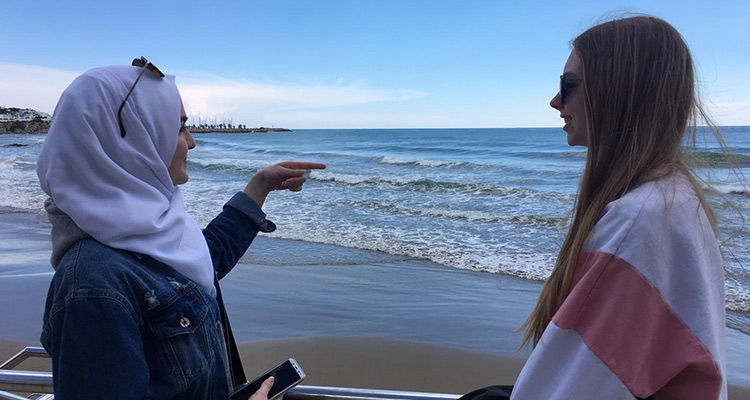 Have you done anything new in this exchange or things that have been complicated?
I've done many things for the first time, in particular the food. I've tried paella, and it was delicious! I had never stayed out late with friends, which I really enjoyed.
And something that was complicated to overcome was, for example, to enter a shop and be approached by the employee speaking to me in Spanish. And I'm saying "no gracias, no soy de aquí"… That was somewhat uncomfortable, because they didn't really understand me at all.
What would you tell someone who is unsure about doing a cultural exchange?
That they must simply do it, because you never know what can happen. If you don't do it you'll miss out on the chance to get to know a host family. If you get the chance, don't think twice and enjoy it. It's a great way to learn.
Inés's experience, a student and host family for Reem in Barcelona
How did you prepare for Reem's arrival on both a family and cultural level?
Among my family we agreed what we'd do on the weekend and how much time we could spend with my parents. We coordinated plans and time that we'd have to be prepared and not to stay at home doing nothing.
On a cultural level, since Reem is muslim and can't eat pork, we adapted the meals for her in a way that she'd have plenty of options. We also prepared her bedroom so she'd be comfortable, as well as the rest of the spaces in the home.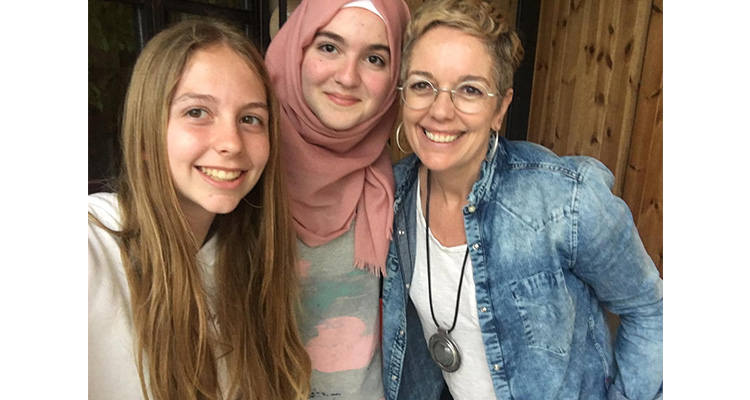 Tell us about an interesting situation you experienced with Reem these days.
She has a very light complexion and here we're accustomed to frequently visiting the beach and protecting our skin, me especially because I'm very white and have to apply a lot of cream… I was very surprised that when she came here she was excited about burning her face! She didn't want to apply SPF, but in the end she caved, although she burned anyway!
What do you think receiving an exchange student can offer a family?
Many things! Above all, the cultural aspect. I feel it is very important to get to know other cultures to open your mind, to know what is outside your country, their habits or experiences.
With Reem, who has lived a pretty hard life in comparison to mine, I was surprised at the bravery she showed: changing countries and environment, being so open to learning a new language, to making new friends, to relating.
That is something I value highly in person and I've seen how much bravery she's had her whole life: she's been able to adapt very well in Germany and here as well, in Barcelona. She's had no problem with the different time table. She's adapted and that's surprised me, positively.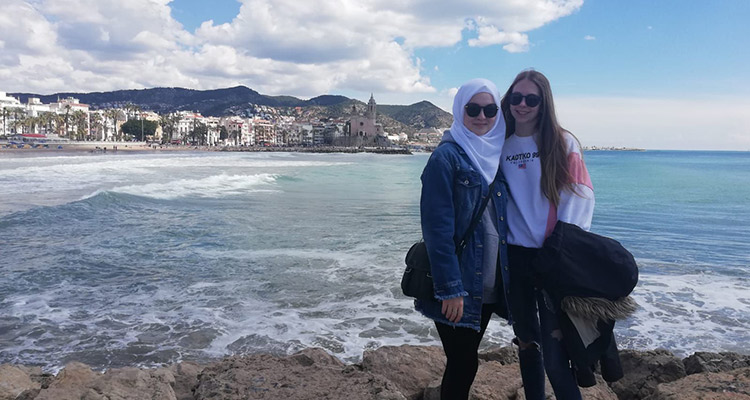 What would you say to a family that's thinking of hosting an exchange?
To be open, mentally above all, and to listen to the person who arrives. If they're still unsure about it, they should keep in mind that they will learn a lot about that person, whether good or bad: the person will offer them things they don't have.
If the person is from another culture, they'll explain their customs, traditions or habits. And even if they're not from abroad, let them explain anyway, you'll learn something new. If you stay at home and don't let anyone come, you'll miss out on many opportunities at your fingertips.
And now you'll go to Germany, are you excited?
I can't wait! Although I have German family, I haven't visited that part of the country and I look forward to visiting it: to get to know more about her culture, special places, restaurants, her friends and her close inner circle. I've already been able to speak a bit with Reem's family and they seem really nice. I am excited to go there, have new experiences and share them afterwards.
From dothegap, thank you very much, Reem and Inés, for your collaboration and thoughts. We hope you enjoy everything ahead of you in this cultural exchange and, as Inés said, we're open to them sharing their experience!