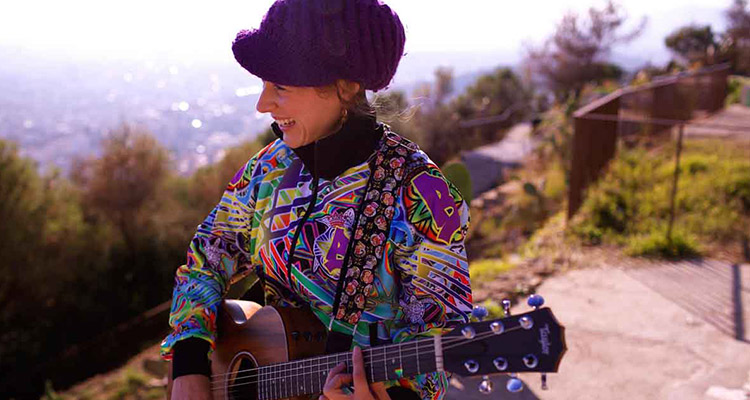 Interview with Lydia Botana, nomad and musician passionate about cultural exchanges
Lydia Botana calls herself a nomadic musician, and her continuous travels around the world are all the proof we need! Her projects Bolboreta and De aquí para allá (From here to there), her songs have reached all corners of the world, inspiring and being inspired by genuine cultural exchanges wherever she goes.
At dothegap, we've had the chance to talk to Lydia and pick her brains about her travels, her music and her lifestyle. Keep reading and discover Lydia's incredible zest for life!
After reading your biography, it's clear that music has been a very important part of your life since a young age. Was it also closely linked to travelling? Did you acquire this love for travel at home, or did you get bitten by the bug when you were on your Erasmus year in Italy?
Some Nigerian friends of mine said, "Lydia, you were born to play music". And music is my life, my father is also a musician, so even when I was still growing in my mother's tummy, he played music and sang for me.
My parents are both from Galicia but they met in London. My mum has always loved to travel. Travelling has always fascinated me too, as has getting to know other cultures. The first time I went on a plane I was 12 years old and I went to see a friend who had moved to Seville. It's been a part of my life ever since.
I started to travel a lot more when I was a teenager, looking for places with good waves for surfing and places where bands I loved were touring and playing concerts. Then I started to play professionally and travel around playing my own music, until I became the nomad musician I am today!
For more than 10 years I combined my life as an instrumental musician and as a music teacher, but 5 years ago I decided to concentrate on playing music around the world. I still have ties to teaching though as I give workshops, master classes and talks, and organise meetings about musical education for teachers, like the one I held a few months ago called Educando, emocionando, musicando (Educating, exciting, musicing) in A Coruña.
Diversity is an essential element to your job: in terms of styles of music, the projects you lead and in terms of interculturalness. When did you discover you didn't want to put up any barriers?
I think the main barriers are in our minds. Despite the fact that I'm very proud of where I come from, I think of myself as a citizen of the world. I always tell people I was born in Galicia but I was re-born in the Canary Islands, two incredibly magical and beautiful places.
Over time you realise that you should judge people by how they interact with you and with the world, not by the prejudices they may face because of where they're from, the colour of their skin, their religion, what they look like or what language they speak.
We should try and appreciate every culture that's not our own, the one that identifies us and with which we have most in common, always by tolerating and respecting others. That's why I love blending musical genres, languages and cultures in the different musical projects I produce.
Your project called De aquí para allá puts children in touch with music from around the world. How did it start? And how do you adapt it to the place you're visiting?
While I was doing my Erasmus at the Bologna Music Conservatory in Italy, I started to prepare my dissertation. I was in close contact with the world of educational concerts for children as I was helping to direct the children's choir at the Teatro Comunale di Bologna with the teacher Silvia Rossi.
In the end, the Conservatory wouldn't let me continue my research on world music for children, but I decided to continue on my own. I loved the idea of bringing different musical genres from different countries into the hands of children, all in the name of education and fun. That's when I created the educational music show De aquí para allá.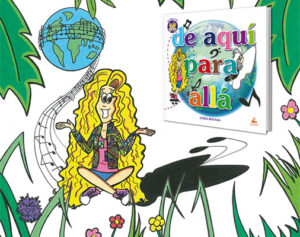 Over time, the families that came to my concerts started to ask me where they could find my music, so I published an album of the music and my story, which aims to explain that you don't just find happiness at the end of your journey, it's how you get there, and with music as your travel companion you'll never feel alone. You can do anything you set your mind to.
I've taken De aquí para allá around the world to places in Spain like Galicia, the Canary Islands, Palencia, Zamora, Barcelona, Madrid and even to Chile, as well as in France, Senegal or Burkina Faso with the name D'ici à là. Depending on the space, I tend to have four artists on stage, or in a smaller format such as sung-stories, which we adapt to the place and the audience's language.
At the beginning, I didn't realise I was bringing all my passions together: music, education and travel! Thanks to this show, my career also began to focus on educational music with projects where I always play myself. I also end up using my emotional intelligence as a vessel, like on Mundo Mamemo, or encouraging people to speak Galician with A feira das linguas and putting on shows based around cultural diversity.
You've been to so many countries and encountered so many different cultures. And you tend to collaborate with local musicians and stay in contact with them afterwards. What do you get out of these musical exchanges? And how do they impact your affinity for music, teaching and your personal life?
I like to discover the traditions of a place, how they communicate with each other and express themselves, and thanks to travelling so much I can now speak six languages, although the universal language for me is music. 🙂
I'm lucky to have already been able to visit five continents, and to always meet people with warm hearts from all over the world! I like to think that special people always end up meeting each other, and that artists are connected in a very unique way with the universe and with each other.
I've always tried to stay in touch with the people I connect with and admire, to create things together and share insights by fusing our experiences.
I love putting my city A Coruña on the map, and pointing Tenerife out to people who didn't know it even existed. I love listening to different accents pronounce my favourite word, Bolboreta, which is the name of my mixed musical project and means butterfly in Galician.
In fact, I recorded my album Vuelo (I fly) from Bolboreta, with with artists from Calle 13 (Puerto Rico), Ojos de Brujo (Barcelona), Bohemian Betyars (Hungary), Mehdi Nassouli (Morocco), La Troba Kung Fu / Amparanoia (Barcelona), Illya Kuryaki & The Valderramas (Argentina), Bombino (Nigeria), Afro Cluster (Wales), and the list goes on.
The last song I recorded is Never go – Ne pars pas, which I recorded in Nigeria with artists from Guinea Conarky, Benin, Liberia and Cameroon. We still speak through social media, which help us maintain relationships and feel closer to the people you share beliefs and ideals with, despite the distance.
How would you encourage other musicians to go on an exchange to foreign countries, those who haven't yet experienced the things you have?
I think life is a journey, not a destiny, and I love living by that premise. Some people are scared of the unknown, and the media has the power to twist reality, which I think is why many people don't dare living in other countries. But I think you need to be brave, and not be scared to step outside your comfort zone. It's true what they say about leaving your own garden from time to time, and see other people's to be able to appreciate what you have at home.
I mean, you have to be willing to open your mind and accept that other places live differently, they have a different perspective to you, which may be better or worse, but you should always respect them. If it really doesn't agree with you, you can always go home. For me, home is where your loved ones are and to where I'll always return no matter how far away I am, thankfully.
Travelling opens your eyes to the world. I can attest to that, and it's something I recommend to everyone, not to mention the incredible food you find along the way, another reason I love travelling!
Would you like to mention any other experiences you've had? Do you have a favourite destination?
Wow, so many that my friends think I should write a book about my travels around the world… Perhaps one day I'll sit down and write one, although they say there are two different types of people: those who write about their life and those who live it intensely. For now, I'm living mine intensely, because at the end of the day, life is short.
I love how sometimes the world is so in synch you end up bumping into people you'd once met on the other side of the world.
Out of all the incredible places I've visited, the only two places in the world I consider home are Galicia and the Canary Islands.
Thanks so much for the interview, Lydia!
Lydia Botana has had unforgettable experiences around the world. Following our conversation, she highlighted some incredible moments such as crossing the dunes of the Sahara on a motorbike on the most starry night of the year, taking to the streets of Valparaiso (Chile), playing alongside Cuban musicians in Old Havana (Cuba) and repeating her leitmotif with her audience wherever she goes: «Sempre escampa».
Want to make some memories of your own by going on a cultural exchange? dothegap offers you a community where you can build a network and experience unique adventures. What are you waiting for? Sign up now!